Activity Plan 02
Journey to experience history and give back to the local community
1 night 2 days
No.02
History
The history of the Mashu and Kussharo area is intertwined with volcanoes. Over the area's long history, the Lake Kussharo, Lake Mashu, and Atosanupuri (Mount Io) that we see today were created through repeated eruptions. Numerous hot springs gush forth from the caldera ground, and it has been popular since ancient times as a place for curing injuries and illnesses with the hot spring water at hot spring inns. Sulfur mining in Mount Io established the foundation for prosperity in modern-day Teshikaga and Kushiro, for example with the construction of railroads.
This is a suggested route that lets you contribute to local environmental conservation efforts while learning about the creation of the vast Kussharo caldera and the history of Teshikaga. It is perfect for those who want to have fun while protecting nature.
DAY 1:p.m.
Go for a walk from Kawayu Hot Spring area (Kawayu Visitor Center - Tsutsujigaoka Walk)
The journey begins at the Kawayu Visitor Center. Its many diverse pamphlets introduce the natural environment and history of the area so that you can learn about Mashu and Kussharo from all sorts of perspectives. It also provides information on what to know before entering the natural environment and is a great spot to visit when starting your journey.
After leaving the Kawayu Visitor Center, you will head towards Mount Io through the Tsutsujigahara Nature Trail. About 2.6 km long walking path is full of marsh Labrador tea and dwarf Siberian pine shrubs. Because of the volcano, you can see these alpine plants up close even on this lowland path. From mid-June to late July, Japan's largest field of marsh Labrador tea shrubs spread across 100 hectares—the size of about 21 Tokyo Domes—blooms all at once with white flowers.
DAY 1:Stay
Starry Sky Tour and Kawayu Hot Spring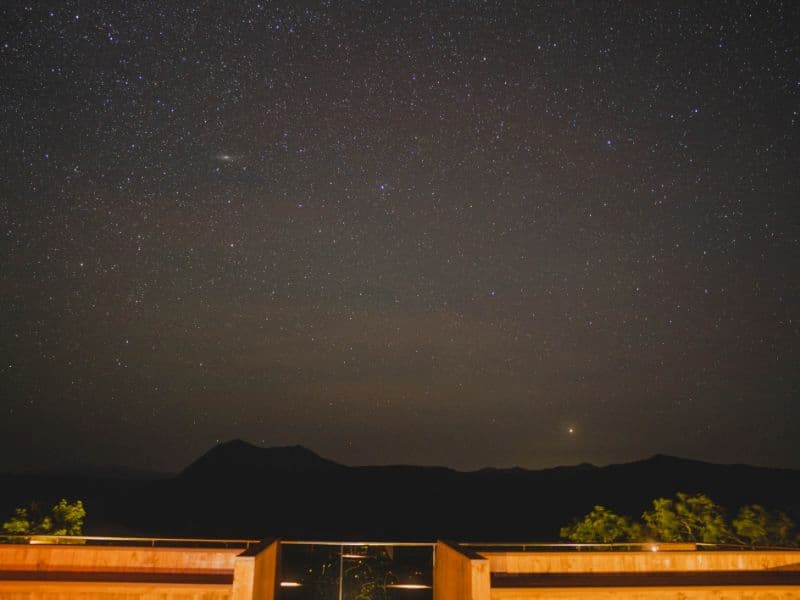 In Teshikaga, you can enjoy the beautiful starry sky all year round. The best spot is the Mashu Observatory, which provides an unobstructed view for astronomical observation. You can see the Milky Way every night of the year when the sky is clear. In the Starry Sky Tour, you can take some time to contemplate the stars and space while listening to commentary from the tour guide. After the chilly tour, you can warm yourself in the Kawayu Hot Spring. Teshikaga is blessed with seven different types of hot springs, and the Kawayu Hot Spring is well-known for its strongly acidic sulfurous quality. Leisurely refresh yourself after the day's efforts.
DAY 2:a.m.
Mt. Io trekking
Atosanupuri (Mount Io) means the 'naked mountain' in the Ainu language. It is an active volcano that continues to spew volcanic gas even today. It was known in the past as a mountain rich with sulfur deposits, and sulfur mining that began to thrive in around 1877 built the foundation for the modernization of Teshikaga and the rest of the Kushiro region. The fumaroles (vents) of Mount Io that number over 1,500 have been designated a Specified Natural Tourism Resource for Teshikaga. Visitors are only permitted to enter Mount Io from June to early November on a tour led by a certified tour guide. With part of the tour participation fee going to servicing of the trail, this program is used to conserve the local environment.
DAY 2:Lunch
Enjoy local food at Kawayu Hot Spring area
The tour ends with a walk through the Kawayu Hot Spring area and dining on the local cuisine. There are free footbaths right near the Kawayu Visitor Center, and the strongly acidic water that contains sulfuric components warms your whole body, even when just dipping your feet. The aptly named Onsengawa (hot spring river) runs through the hot spring resort. A walking path was built along the river in 2020 for visitors to see the steaming river scenery up close. Kawayu Shrine in the hot spring resort has a rare hand bath with flowing hot water and is lit up at night.
After your walk, you can take a break at the restaurants offering dishes made with local ingredients. Enjoy dining at Suzume Shokudo & Bar that offers handmade boiled gyoza dumplings and Vietnamese spring rolls made with flour from locally grown wheat, tempeh rice bowls for a vegan meal, and many other dishes from around the world, or at Inakaya Genpei that is popular for its Japanese-style dinners made with local seasonal ingredients.
Teshikaga Way
Our efforts as a sustainable travel destination
Teshikaga is a town that places great importance on its efforts to protect the area's rich nature and the lives of the people that live there, so that they may be passed on to future generations.
Initiatives that allow both residents and visitors from around the world to enjoy the charm of the region in its natural state while respecting its cultural diversity.Initiatives to protect the rich ecosystem that is unique to this area.We kindly encourage everyone who lives in or visits Teshikaga to join us in our support for these three initiatives.
Enjoy Localhood

Enjoy local attractions

Respect Culture

Respect cultural diversity

Protect Nature

Protect our rich ecosystems